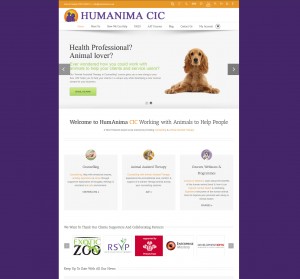 Humanima CIC Kathryn approached the idea buro on facebook /theideaburo after being referred by a friend and we had a conversation about building her presence effectively and sustainably to market her Animal Assisted Therapy Courses. Humanima CIC Website: http://www.humanima.co.uk
Mission To rebuild the Humanima CIC website and position her courses as the foremost element that comes up in Google. To develop social media and train Kathryn in how to market her self online. This case also involved looking at social media channels and modifying or creating them to fit in with an online sales and marketing model to promote the next book launch. Ongoing training and mentoring in online business provided.
Skills
Would You Like Help & Advice In Growing Your Business?
We are on a mission to find the next entrepreneurs to support and grow.
Is yours the business we're looking for?
Are you an established business with a good reputation and a steady flow of customers?

Are you currently engaged in any form of advertising?

Are you determined to grow your business this year?

Are you unhappy with your current level of online presence?
If you answered yes to the above and would like to speak with us personally about getting you incredible results, then we will happily set aside some time for you. Here's how the process works: First, you'll need to fill out the discovery form below.
Don't worry, it's simple and unobtrusive. We just need to know what you're selling, get an idea of what you want to accomplish, and so forth…We'll painstakingly review your goals, your offers etc …plus we'll deliver a custom plan to grow your revenues…based on the exact same process that's generating growth for our clients right now. After completing the form we'll need to speak to you. This will initially take between 45 and 60 minutes.
We look forward to working with you
http://www.theideaburo.co.uk/wp-content/uploads/2014/08/humanima-portfolio9.jpg
575
710
Chief Inspector & Mum On A Mission
/wp-content/uploads/2015/07/web-logo-white.png
Chief Inspector & Mum On A Mission
2016-06-16 18:20:36
2016-06-16 19:08:51
Digital Marketing Help For Therapists : Kathryn, Flossie and Humanima CIC, Wolverhampton